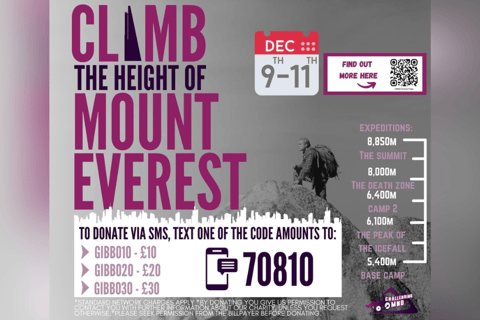 The motor neuroen disease charity Challenging MND is looking for support in raising £10,000 to support the MND community.
Between December 9 and December 11, the charity is arranging a Mount Everest challenge which will see Alex Gibson – founder and chairman of Challenging MND, and EMEA senior capital modeller at AIG – and his support team ascend The Leadenhall Building (aka the Cheesegrater) 47 times. This feat, which is equivalent to the height of Mount Everest, is made even more impressive given that Gibson has reduced mobility due to MND.
In a Press release, Challenging MND noted that Gibson was diagnosed with MND in 2018 and since then has seen his physical capabilities reduced due to the degenerative disease. Despite this, however, he has powered ahead with setting up the charity to support the MND community through financial support and assistance, as well as the opportunity to create memories via virtual reality.
Challenging MND has also recently extended its support to careers of MND sufferers to enable them rest and recuperation through an activity of choice.
Gibson has undertaken several challenges and broken world records since his diagnosis in a bid to raise money for Challenging MND – and the Mount Everest Challenge will be the latest of these feats. In a Press release, the Challenging MND team asked that supporters give as much as they can to allow Gibson to continue his quest to raise the profile of MND and to support the MND community.
Taking part in The Everest Challenge
In a recent interview with Insurance Business, Gibson explained the challenge and offered his advice to those taking part.
"Don't let adversity hold you back," he said. "It is a classic example of unleashing the inner burning drive and desire to set the record straight. After all, we are only here for a short period of time and why not learn what you are capable of doing."