To determine the 54 winners of the 2023 Elite Women Awards. Each of the Elite Women stands out due to her reputation and demonstrable ability.  
Part of the judging panel was Sabrina Hart of the ISC Group. When analyzing the merits of the nominees, Hart explains that she gave particular credit to women leaders in insurance who had: 
impressive overall qualifications and longevity in the industry

been nominated by their peers

helped drive advancements in diversity and inclusion

achieved significant accomplishments

not necessarily risen to CEO role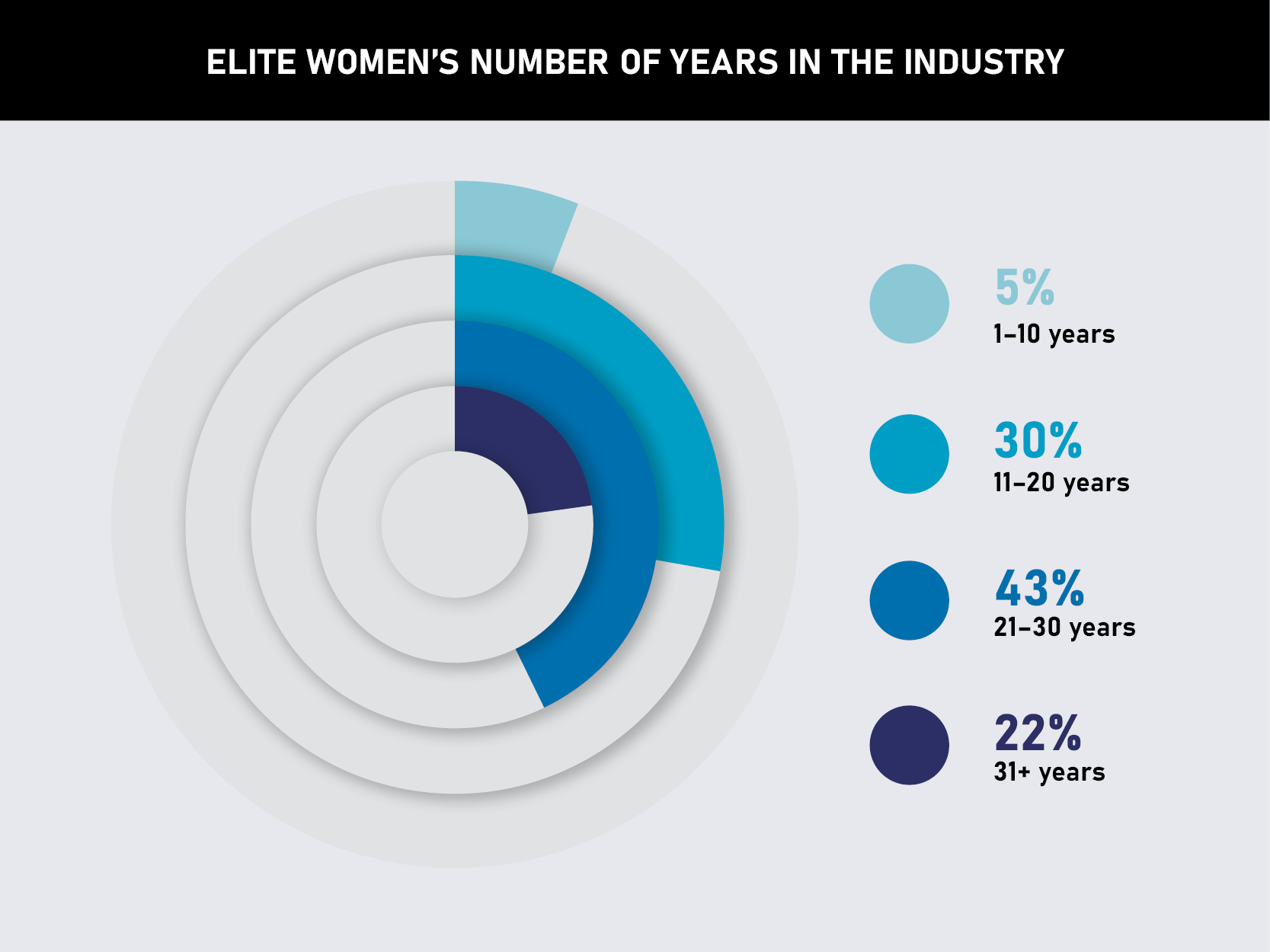 Regarding the issue of women standing out in insurance, Hart acknowledges lingering problems associated with society, such as "unconscious bias," but sees things changing.
"For me, it's very much a strategic issue for organizations because when you look at demographics and you look at the talent pool and the talent pool is going to be more diverse," she says. "You just look at graduation rates and who's coming and who's going to be available, and your customers are going to be more diverse, and more diverse customers are going to demand more diverse partners. But you know the difficulty for individuals is some of it is still society and some are still the organizations that may not have prioritized diversity as much." 
What differentiates IBA's winners from their peers? 
Carrie Barr, president of casualty solutions at Verisk, has distinguished herself by being relentless about the customer experience and remaining collaborative yet decisive in leadership. This trait has been combined with her passion for coaching and "growing" people.

As a result, she has managed to:
receive various company awards for sales performance

help clients save nearly $250 million in Medicare liens over a two-year period

save over $2.2 million in Treasury Department disputes

improve the application of comparative liability by up to 20% 
 
reduce medical review times by up to 90%

Wade Associates president Cheryl Nabell has similarly been marked out as a top performer by transitioning from an actuary to a producer, then to an executive. Along the way, she has mentored young and other promising people in the industry.
As a result of her noteworthy efforts, she has:
developed a highly functioning team that has worked to increase agency 2019 revenue by almost 50% by the end of this year

helped her company become a Big I Best Practices Agency for the first time ever in 2022
Meanwhile, Maureen Caviston, the executive vice president at Amwins, has stood out by:
securing a seat next to male colleagues at "the table"

becoming the first female president of the National Association of Professional Surplus Lines Offices (NAPSLO), now the Wholesale & Specialty Insurance Association

maintaining excellent relations with all colleagues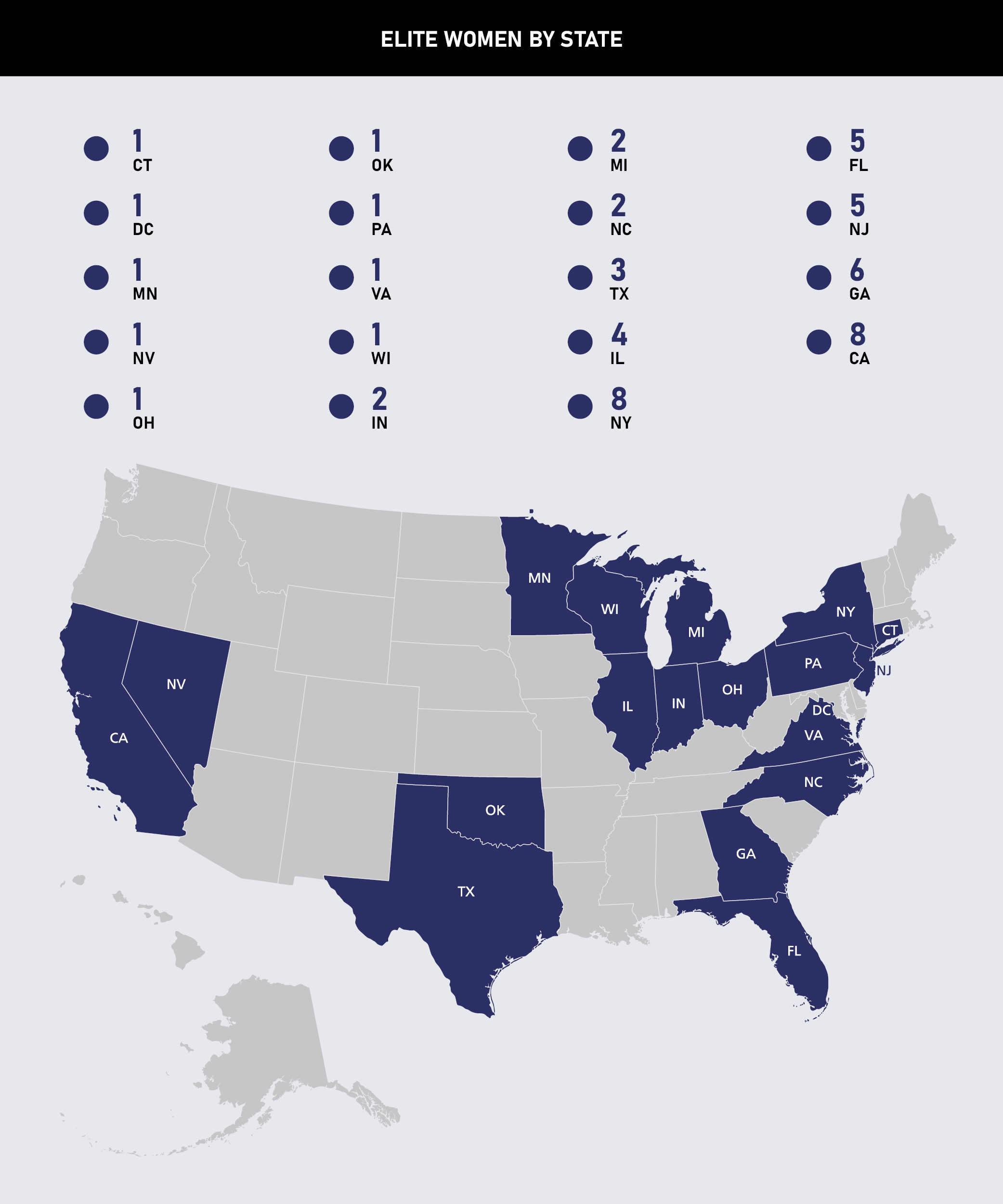 Challenges surmounted by 2023's Elite Women
Throughout their careers, one common denominator with IBA's winners has been persevering and succeeding in the face of adversity.
For Barr, that has meant transitioning from sales to operations. "It was unfamiliar territory for me after being in a client-facing role for so long," she says. "But I was able to leverage my sales background and passion for clients in the new position." This self-development was an ongoing process.
Barr adds, "I routinely held customer-specific stewardship and focus meetings aimed at deeply understanding client needs, so we could continue to provide innovative and superior solutions for the industry."

For Nabell, persevering has meant juggling family and career commitments even though there have been some testing periods.
"One of my strong suits is multitasking," she says. "But sometimes there are just more balls in the air than you can conceivably catch – and those days can be really tough. When I look at my career, I'm really glad that I was given all these opportunities because I feel like I've had it all… I have a career that I love and kids who are doing great in life, and I'm very proud of that. So, I think overall it's worked out."
Meanwhile, for Caviston, persevering has meant progressing in an overwhelmingly male-dominated client-facing role.
"I saw it as a very male-dominated industry, so I made a number of decisions which got me a seat at the table and led to a number of opportunities, not only in business and positions that I earned but also in industry associations." 
 
And she adds, "I was the first woman president of NAPSLO. I was pretty young at the time. Since that time, there have been seven or eight women presidents. I'm still the first and only president to give birth while in office." 
The future is bright for women leaders in insurance 
Barr says there are more opportunities than ever for women. Today, numerous fields can lead into insurance; remote or flexible roles often benefit working mothers; and the impending mass retirement – approximately 25,000 in claims alone over the next decade, she says – will free up opportunities.
"Unemployment in the US remains historically low, and the insurance industry unemployment rate is even lower," she says. "At the end of 2022, the industry had about 386,000 open jobs. That, combined with the wave of pending industry retirements, provides endless opportunities for career mobility and growth for women. Likewise, the post-COVID environment has created more opportunities for remote work, which is favorable to those balancing their career and family life."
Nabell is similarly optimistic about the future of women leaders in insurance.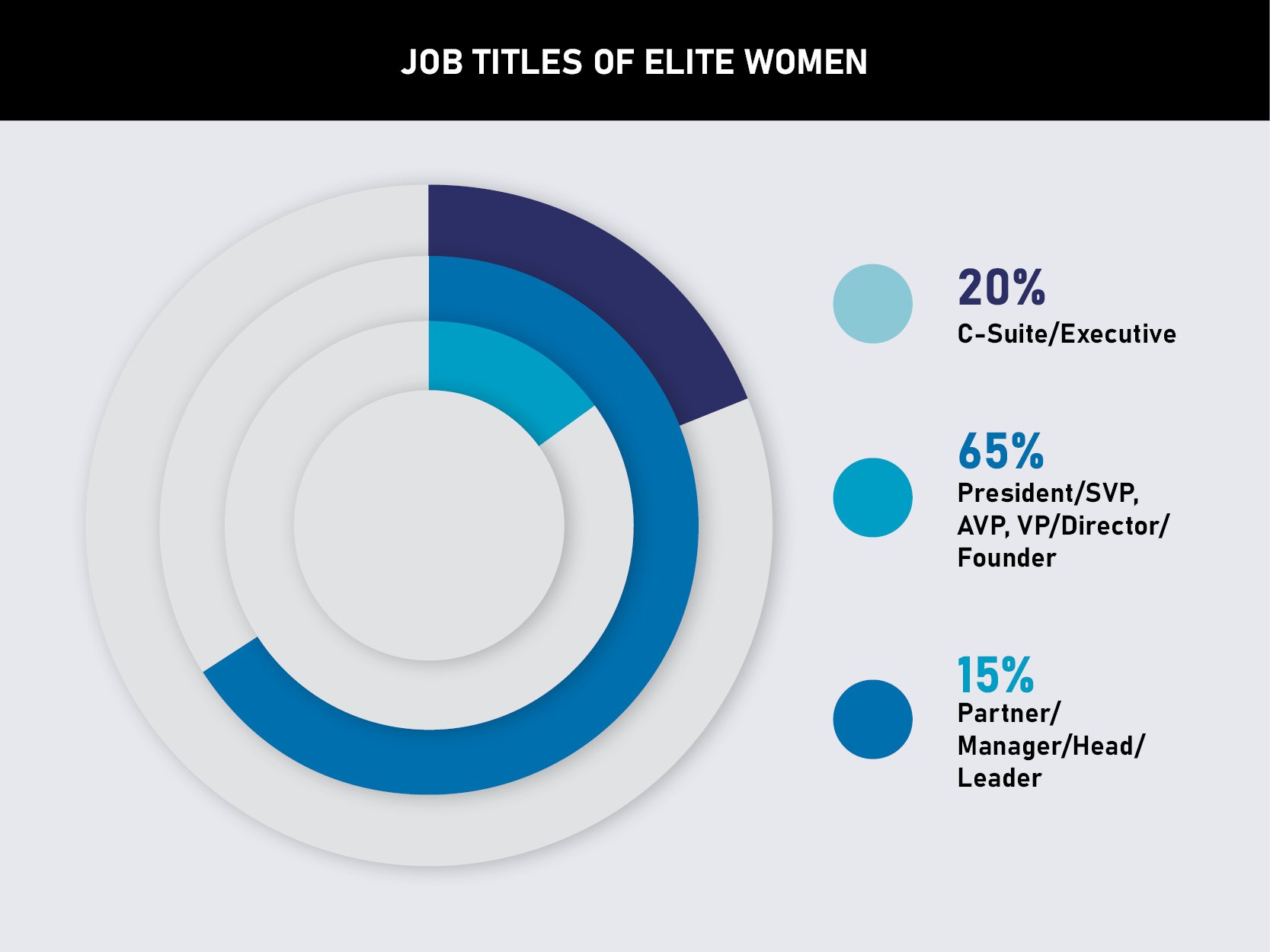 "There are so many opportunities and so many openings right now," she says. "What's more, the labor shortage has created opportunities for anybody who's really looking to work hard and move ahead. I think we learned from the pandemic that we can be flexible in many more ways than we ever thought we could, and we can offer more opportunities to more men and women than ever could before – no matter their geographical location or their life situation."
And Caviston adds, "I'm very optimistic. We're very supportive of women. I'm on the steering committee for the Women's Leadership Program at Amwins, and we have 15 high-potential women across the five divisions that we have. It's a passion of mine to get more women in the C-suite."
In conclusion, Elite Women judge Hart is similarly positive about the opportunities for women going forward.
She says, "One of the challenges is the industry continuing to promote diversity and inclusion, driving the brand and attracting diverse individuals to the industry. What IBA and other organizations are doing by bringing attention to women and insurance is certainly helping."
Elite Women 2023
| Sr. No. | Name | Designation | Company |
| --- | --- | --- | --- |
| 1. | Abby Davis | Executive Vice President and Managing Director | Alliant Insurance Services |
| 2. | Alexandra Littlejohn | Executive Vice President and Managing Director | Alliant Insurance Services |
| 3. | Carolyn Toomey | Senior Vice President and Chief Underwriting Officer | Arch Insurance |
| 4. | Carrie Barr | President, Casualty Solutions | Verisk |
| 5. | Linda Sullivan | President and Chief Executive Officer | Administrative Strategies |
| 6. | Marilyn Quinlan | Executive Vice President | Alliant Insurance Services |
| 7. | Martina Seferovic | CEO and President | Outsource Insurance Professionals |
| 8. | Rekha Skantharaja | Chief Executive Officer and President | Tangram Insurance Services |
| 9. | Carrie Little | Divisional Group President | Great American Insurance Group |
| 10. | Cheryl Nabell | President | Wade Associates |
| 11. | Christina Geller | Head of Wholesale Financial Institutions | AXIS Capital |
| 12. | Geion Bright | Executive Vice President | Amwins Group |
| 13. | Karen London | President, Specialty Casualty | QBE North America |
| 14. | Laura Hay | Global Head of Insurance | KPMG International |
| 15. | Maureen Caviston | Executive Vice President | Amwins Group |