The iPhone 15 has arrived, and it offers several enticing upgrades compared to the iPhone 14. While features like USB-C and a sharper 48MP camera are nice, most users will be drawn to the new addition known as the Dynamic Island. This is the upgrade that will impact your daily experience with the iPhone 15 and iPhone 15 Plus.
If you're not familiar with the Dynamic Island, it may sound like the title of a popular Netflix show. This feature made its debut last year on the iPhone 14 Pro, replacing the notch that Apple had been using since the iPhone X to house the front-facing camera and sensors for Face ID unlock.
In simple terms, the Dynamic Island is a customizable cutout at the top of the 6.1-inch iPhone 15 and 6.7-inch iPhone 15 Plus. It dynamically adjusts its size and content based on your current activity. For example, it can display navigation directions when using Apple Maps or show what's playing when you're listening to music while using another app.
The Dynamic Island also integrates seamlessly with third-party apps, providing real-time updates for food deliveries, ride-sharing, and sports scores.
Since front-facing cameras for selfies, video calls, and face-based biometric identification are essential, they're not going anywhere. While some Android phones have adopted hole-punch cameras and a few have experimented with under-display cameras, these solutions still affect the screen's appearance. Apple's approach is different, making front-facing components practical and unobtrusive in everyday phone use, and it's highly effective.
Considering the criticism Apple has faced over the years for the notch, the Dynamic Island successfully combines aesthetics and usability, which hasn't always been easy for Apple.
What can the Dynamic Island do?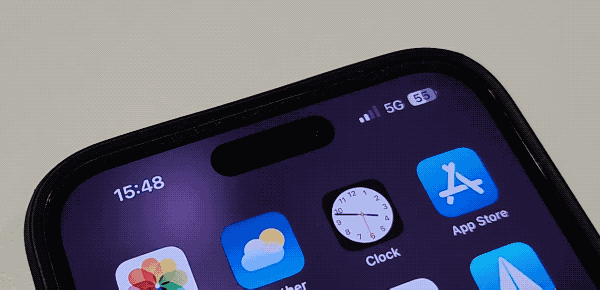 Here's a list of functions within iOS that the Dynamic Island can notify you about or let you interact with. There are more third-party features from apps like Spotify and YouTube, but here are the core functions available right away:
Confirm Apple FaceID
Confirm Apple Pay transactions
Check AirPods connection and battery life
Monitor iPhone 15 charging status and battery life
Receive low battery warnings
Unlock Apple Watch and Carkey
Activate Silent Mode and Personal Hotspot
Get AirPlay, SharePlay, NFC, and Airplane mode notifications
Stay updated with Find My alerts and turn-by-turn navigation
Handle incoming phone calls and view song playback details
Track timer countdowns and live sports scores
Check screen recording and voice memo recording duration
The Dynamic Island is just one of the improvements introduced in this year's iPhones. To learn more about the iPhone 15, you can read our initial impressions. If you want a comprehensive overview of everything Apple announced at this year's Wonderlust event, you can find it in our event recap.