North Center, a vibrant Chicago neighborhood, is on the cusp of significant change with the impending redesign of one of its busiest intersections. The junction of Irving Park Road, Lincoln Avenue, and Damen Avenue, a six-way crossing, is set for a transformation in the coming year. Alderman Matt Martin of the 47th Ward, representing the area, is encouraging local residents to provide their input on the final concepts for this pivotal project. The need for this redesign is underscored by the alarming statistics – an unsettling 47 accidents have occurred at this intersection since 2020, according to data from Martin's office.
"This [intersection] is very much one of the heartbeats of our community, but also from a traffic and transportation standpoint, one that has presented and continues to present a lot of challenges," Martin said, emphasizing the dual importance of this intersection as both a community hub and a transportation hotspot.
Recently, neighbors were given a glimpse of potential redesigns, with a focus on enhancing traffic flow and introducing infrastructure improvements on Lincoln and Damen, both of which are city-owned roads. In particular, both concepts aim to prioritize the safety of pedestrians and cyclists on Damen and Lincoln. However, one of the designs differs significantly in its approach by proposing the elimination of left-turn lanes from Damen onto Irving Park Road, a change that promises substantial improvements in several aspects.
Concept One: Reimagining the Intersection
The first design would involve the removal of the left turn from Damen onto Irving Park. While maintaining street parking on both sides of the street, this concept introduces a parking-protected bike lane on the east side of the street as it approaches Irving Park. This alteration creates an expanded pedestrian area, along with safe zones for cyclists approaching the intersection from the northbound direction. Additionally, the redesign aims to "calm" the turning movements occurring at the intersection by creating tighter turning radii. This results in vehicles making turns onto and off of Damen or Lincoln at slower, safer speeds.
However, this proposal has raised concerns among local residents who worry about drivers rerouting through residential streets to reach their destination if the left-turn lanes are eliminated. In response to these concerns, traffic studies have shown that drivers typically adjust their routes over time to adapt to new traffic patterns, opting for major streets like Addison rather than relying on side streets. To address this, the proposal includes discussions of traffic-calming measures on adjacent residential streets, such as Grace, to ensure that any diverted traffic adheres to lower speeds.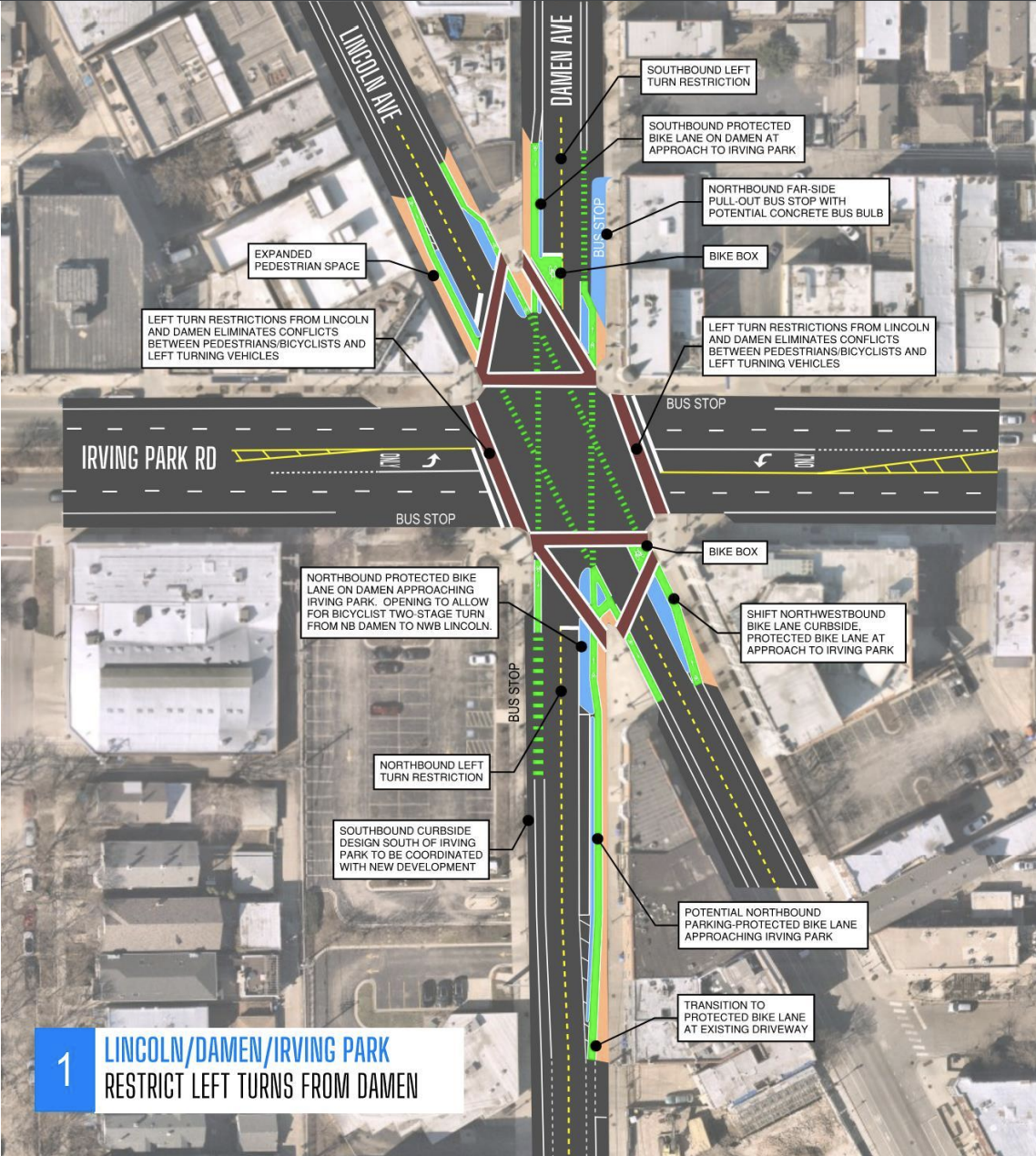 Concept Two: Maintaining Left-Turn Lanes
The second proposal takes a different approach by retaining the left-turn lanes while removing parking on the east side of Damen, south of Irving Park. This design, compared to the first, includes fewer and narrower pedestrian curb extensions and fewer improvements for bicyclists. Nevertheless, its overarching goal aligns with the first concept – enhancing safety and mobility at the intersection.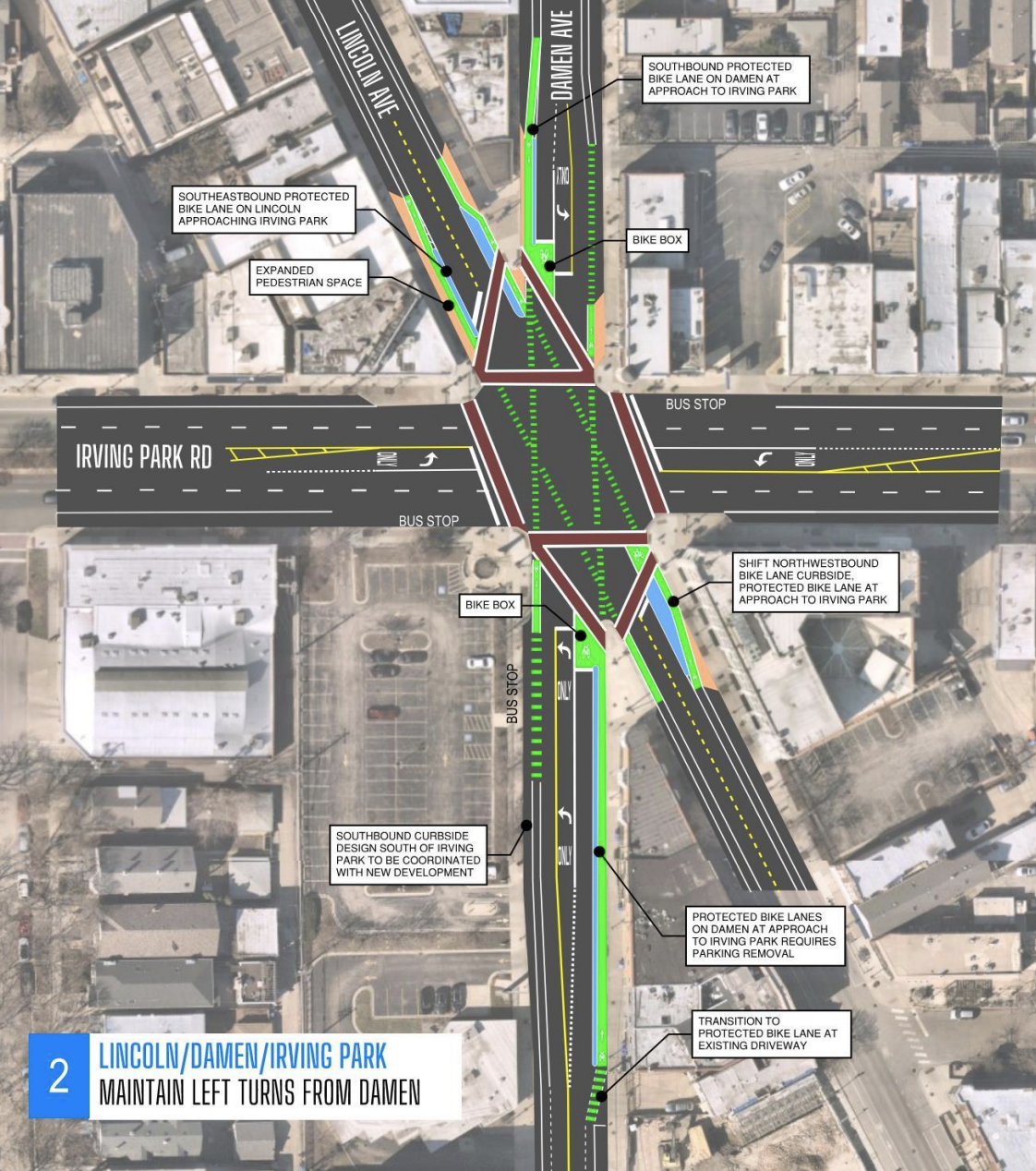 Collecting Community Input
To gauge public opinion on the two design concepts, Alderman Matt Martin has made it easy for neighbors to submit their feedback through an online survey available on his website until October 25. Following this, Martin and transportation officials will carefully review the feedback, and a decision on which design to move forward with will be made during the week of November 6. If all goes according to plan, construction will commence sometime next year.
Ald. Martin aptly sums up the prevailing sentiment by stating, "We feel that the status quo is not sustainable." The changes ahead promise to not only enhance safety but also improve the overall flow of this critical intersection, contributing to the well-being of the community and easing transportation challenges for all who pass through this bustling North Center hub.