Shilpa Shetty's social media candour is admirable! She has over 27 million fans on Instagram and she keeps them updated with snippets of her daily life. If you follow her on the photo-sharing app, you'll see that she frequently posts about her daily tasks, upcoming projects, and interactions with her family. It wouldn't be an overstatement to say that Shilpa's social media posts are totally and utterly relatable for most of us. The actress uploaded a post showcasing her most recent meal in keeping with her custom of sharing glimpses into her daily life. We could see French toast with maple syrup and oodles of hazelnut syrup in the picture story. "French toast, maple syrup, and (no sugar) hazelnut spread," she captioned the photo, which she accompanied with a "love" emoticon.
Isn't this a great combination of health and flavour? If you're anything like us, this healthy breakfast has piqued your interest. Don't worry! We've got something for you. We've chosen five recipes for making a healthy breakfast with some simple steps and ingredients. Read below.
Breakfast Recipes: Here're 5 Recipes For Making Healthy Breakfast
1. Ridge Gourd And Bottle Gourd Pancakes With Ivy Gourd Dip Recipe
These protein and fibre-rich pancakes are made with a combination of bottle gourd (lauki), ridge gourd (torai), paneer, rice flour, and gram flour. You can prepare them for a filling breakfast or lunch, the choice is yours! Find the recipe here.
2. Banana French Toast
We bring you the most popular French toast recipe with bananas to keep your breakfast simple and quick! It only takes about 25 minutes to prepare. Click here for the recipe of Banana French Toast.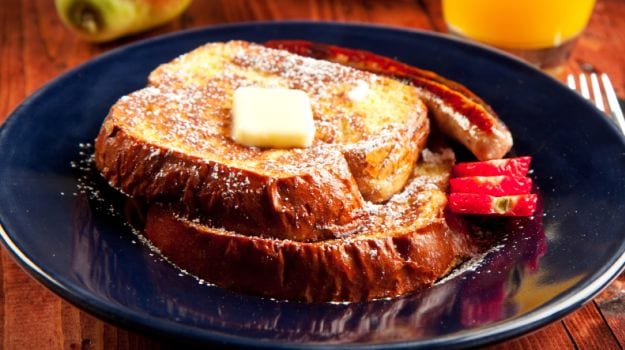 3. Quinoa Pancakes
With this easy-to-make quinoa pancake, you can add a healthy twist to your morning breakfast. Add some fresh fruits on top and enjoy! For the complete recipe of Quinoa Pancakes, click here.
4. No Bread Sooji Toast
A toast without bread? Well, yes! Here's a nutritious, filling, and healthy no bread sooji toast recipe to spruce up your breakfast game. To prepare this, all you need is sooji, water, some seasonings and that's all. For the detailed recipe, click here.
5. Jowar Vegetable Chilla
Jowar, also known as sorghum, is regarded as one of the healthiest ingredients available. With so many advantages of this ingredient, let us look at the recipe for Jowar vegetable chilla. Click here.
So, what are you waiting for? It's time to amp up your breakfast game with these recipes. Try them out and let us know how they turned out in the comments below.